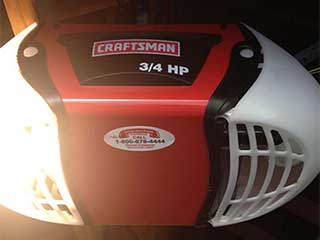 The most important part of your garage door is the opener that drives it; these motorized units work hard to keep your door operational day after day. While they're built for exceptional reliability, these units will eventually suffer from wear and tear - they may begin to work slowly or make a lot of noise, and when this happens you'll need to call in the experts.
Assessing Your Opener
Our technicians are highly experienced and trained to recognize the symptoms of a faulty garage door opener. These are typically the most complex components of a garage door system, and require professional handling; it can be difficult to determine what the root cause of a problem is without proper training. Our technicians will examine the condition of the opener's wiring, circuit boards and mechanical components and assess what repairs are required.
Replacing an Opener
A garage door opener that's been in use for many years may wear out to the point that it requires replacing; even if the motor is repairable it may not be possible to source new parts, or it might simply be more economical to purchase a new opener. In these situations our technicians are able to provide expert guidance on choosing the right opener for your garage door, giving you all the information you need to make the right decision.
Guidance and Installation
Installing a new opener is a tricky job that requires an experienced hand; the unit needs to be fixed securely and properly integrated with your door system, or it will run the risk of failing. Our technicians can perform this on your behalf; whether you're looking to purchase a new opener from us, or have one already and simply need it to be installed, we can get perform all the necessary procedures quickly.
Professional Repair and Replacement Services
At Garage Door Repair Richmond, we provide a full range of opener related services homeowners may come to require. To find out how we can help you, contact us today.
You can also count on us for:
Garage Door Opener Maintenance
Genie & Liftmaster Opener Repairs
Emergency Broken Spring Replacement
Broken Garage Door Track Repair