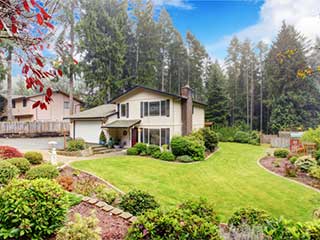 Your garage door is much more than just a shield between your car and the outer world. Besides the aesthetic appeal that has the power to increase the value of your property, the material you choose will also affect the performance of the door itself. Here are the most popular options on the market.
Going for the Classic Steel
Steel provides that modern, stylish look and is also quite easy to maintain and clean. The variations in models, sizes, and patterns are countless and will leave plenty of space for creativity. The long-term cost flexibility on steel doors is also high as they don't split, splinter and peel as time goes by. However, should you bump your car lightly into it, there is a higher chance of it denting fairly easily.
Solid and Appealing - Wood
Wooden garage doors have been a popular pick for their attractive appearance and durability. They are also proven to be quite sturdy and easily customizable for any garage shape and size. If you decide to go with wood as your material, keep in mind you will have to properly maintain and guard it against damage that is likely to affect it more than any other material.
Resilient and Flexible - Fiberglass
For an even more robust choice than wood, pick fiberglass. This material can be made to resemble wood but also packs the ability to withstand insects and moisture. It also offers more flexibility, which reduces the chance of warping. Be weary, however, of using this material in cold climates as it breaks easily once the temperatures drop.
Plastic as an Alternative
Another increasingly popular garage door material is plastic. While plastic is more prone to color fading and impacts than its competition, it still offers an affordable, extremely light and silent alternative. It also puts no strain on the mechanism which means less stress on the opener.
The type of material you should choose will ultimately depend on various factors – your budget, the climate your property is in, the time you will have on your disposal for maintenance, and most importantly – your preferences in terms of appearance. Don't end up with the most practical option that ruins the look of your home.